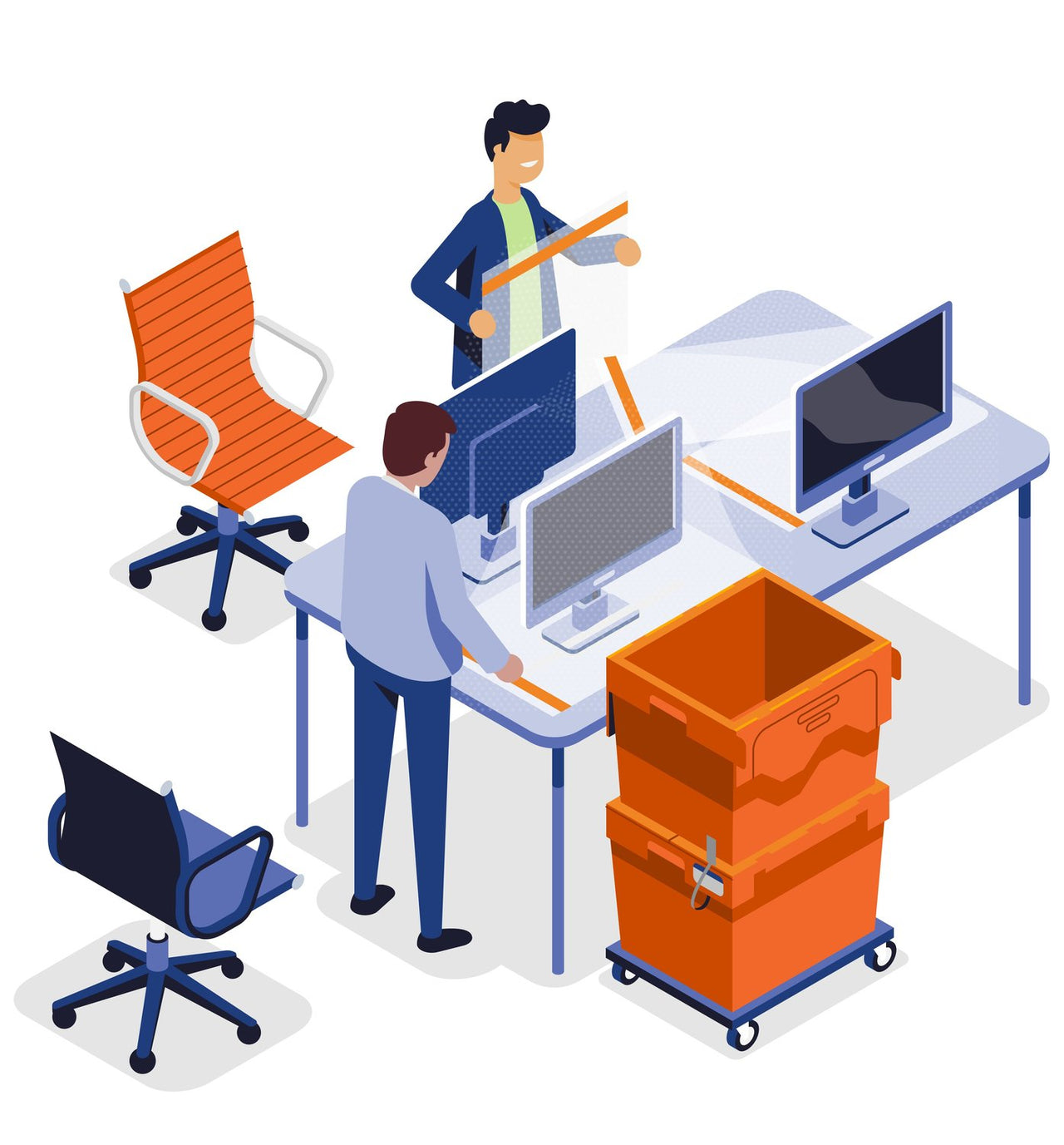 Experts in office clear outs
We know the challenges companies face when vacating an office and planning for renovations. There's a never ending list of tasks that need to be completed to clear out a space and return it back to its landlord. At Rentacrate, we have the experience, expertise, and established relationships with movers and labor support to hire and coordinate the right resources to execute your project.
Let us know your location, company size, and email address, and we'll start moving on a quote.
Managing commercial moves for 30+ years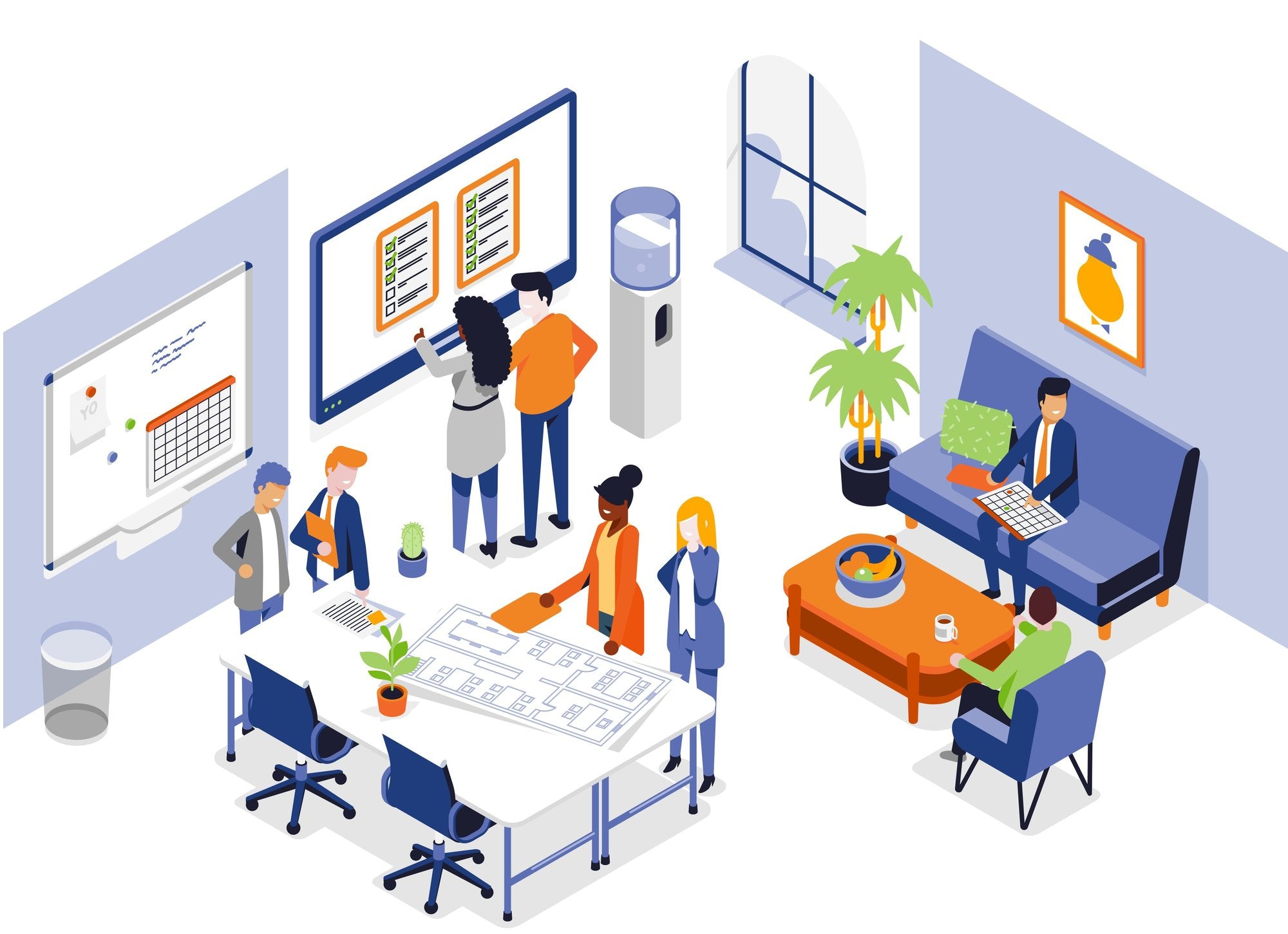 COMMERCIAL RELOCATION
Moving beyond crates
While we may be known for our moving crates and equipment, we also specialize in commercial relocation services for businesses of all sizes in every industry. Located in major cities nationwide, our vetted move partners can assess, plan, and execute your corporate relocation without any limitations.
Pre-Move Logistics: Ensures nothing is missed and the entire office move process is accounted for.
Move Management: Your move is covered from our national network of vetted best-in-class commercial movers to our in-house move planning and execution services.
Post-Move Management: Our commercial movers will ensure your first day, week, and month are a success in your new office space.
Extended Support: Rentacrate will ensure your people can be productive in your new office location, and that your assets and space are optimized.
"Using Rentacrate was the best decision we made while moving. Not only was the service quick and reliable, the crates were perfect for stacking and moving. Using Rentacrate saved us a lot of time and headaches!" - Erin from Chicago, IL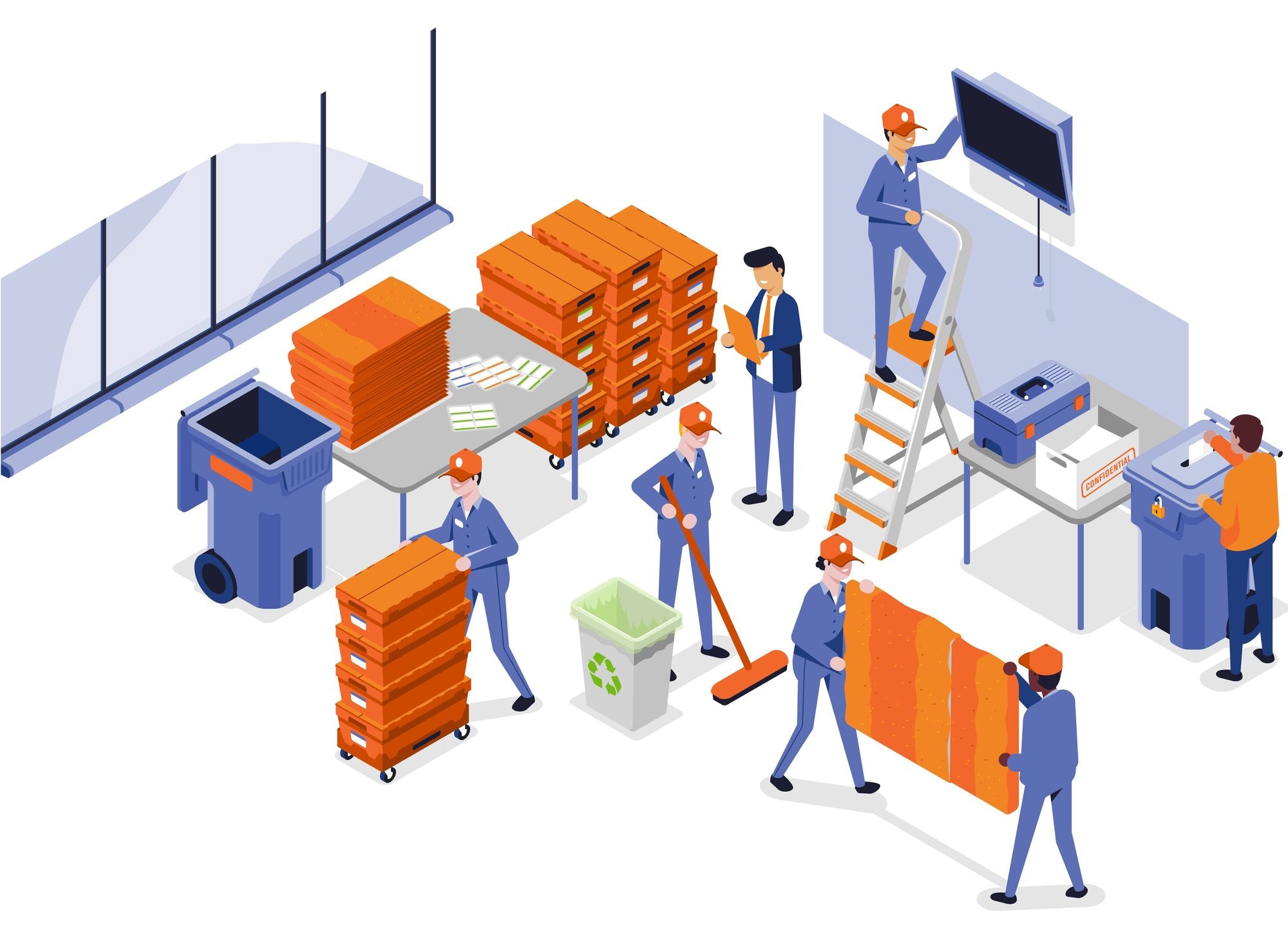 LEASE SURRENDERING
Office liquidation
When surrendering your lease to your landlord, there can be nuanced requirements your company may be responsible for when clearing out a space. Instead of navigating this on your own, place your trust in a company with the experience and expertise to get it done right.
Industry Experts: From 30+ years of experience, we know how to asses the scope of work, identify the work that needs to be done, and execute the project smoothly.
The Right Resources: By understanding the task at hand, we can both hire & simultaneously manage various skill-specific labor teams to execute various components of the project.
Optimized Pricing: With the right blend of skilled labor and resources allocated to each component of the project, we deliver value-added pricing and cost savings to you and your business.
Reliable Management: We provide a single point of contact Move Expert to manage and oversee each vendor and component of the project, eliminating exposure to miscommunication and oversight.
Benefitting Your Team: Our Move Expert will partner with your company's decision maker for every step of the project, reducing their workload and providing expert knowledge.
"Rentacrate has provided top notch service for many varied projects for my organization over the years. Very appreciative of the teams' hard work and dedication." - Conner from Dallas, TX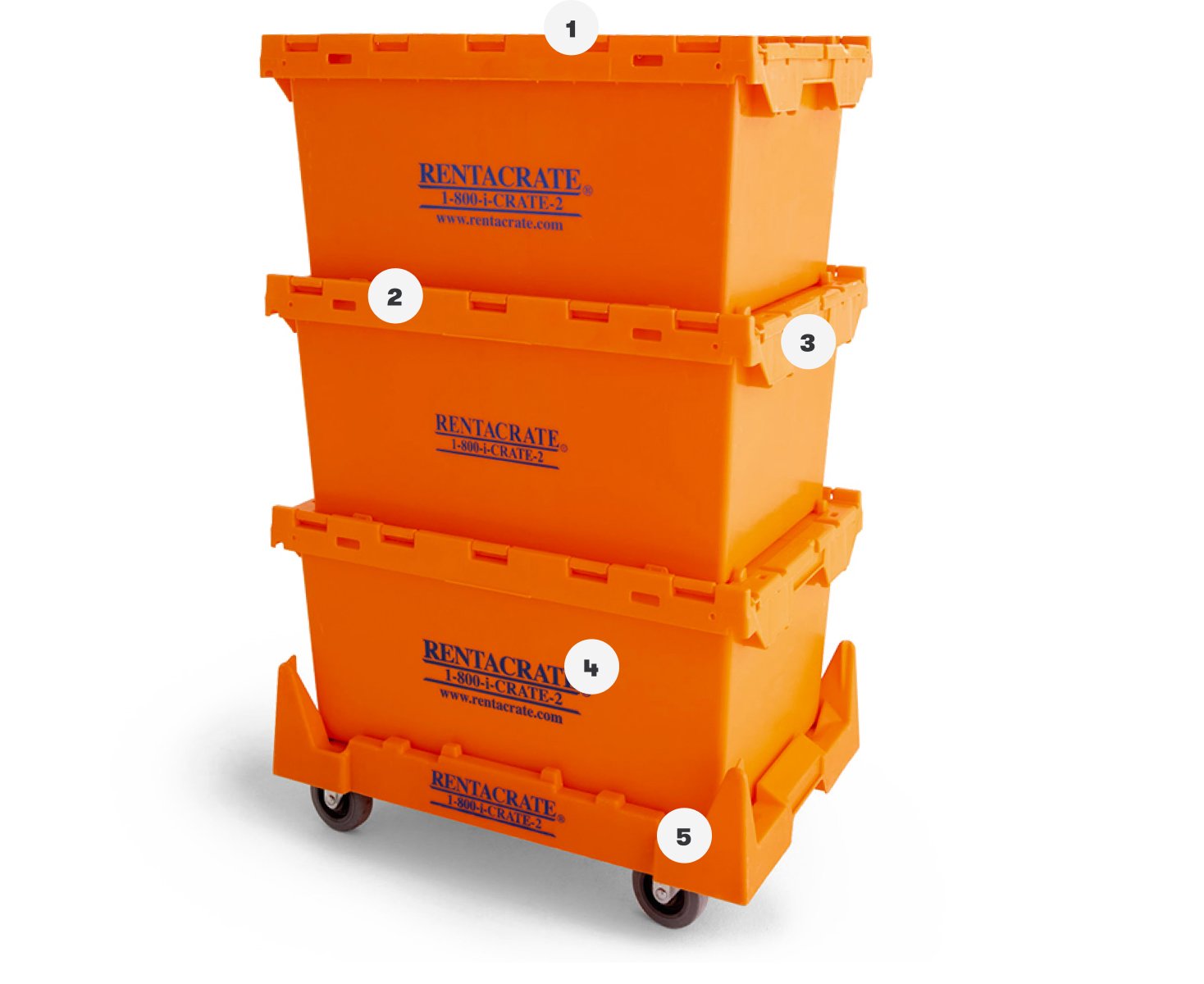 Moving Crates
Better than boxes
Our eco-friendly moving crates, bins & equipmentare no-brainer add-ons for any move. Not only can Rentacrate provide you with full service movers to do the actual move, but we can also provide your business with the best equipment to safely pack your belongings from one location to the next.
Solid Construction: Your teachers can stack these 4 high without worrying about anything collapsing. This also makes organizing a breeze.
Latching Lids: Say goodbye to taping, box cutters and paper cuts. Your teachers will enjoy ease of access with a side of security.
Handles: No more struggling for teachers to get their hands under heavy boxes. They can move these with ease by steering their dolly from their trusted handles.
Fit For Your Move: Our Standard Crate (24.25" x 15.25" x 12.75") is designed to get the job done, but additional sizes can be added to support the bigger business.
Pak-N-Stak™ Dolly: The moving partner of your dreams. Stack your crates on the dolly and move around your office effortlessly.
"Not a single thing was broken in our move, which was a first. I can only assume the crates did a good job of protecting things from being crushed. " - Laura from Washington, DC
Experts in office close outs providing the most reliable support for businesses
Our 30+ years of office relocation experience has allowed us to vet and partner with a national network of best-in-class commercial movers all while providing the best moving equipment in the industry.
Experienced commercial movers
Across 50 states, on average the Rentacrate team is actively involved with
0moves per month
One-stop-shop for moving
We tailor equipment bundles & moving services to your business's specific needs.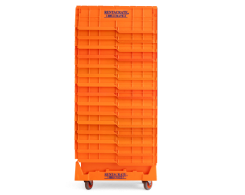 Personalized service
Our Move Experts are in touch with you every step of your school move
0%Of Companies Rate Us 10/10
How it All Began
With over 30 years of experience moving schools
It will come as no surprise to you when I confess: we cannot predict the future. But we can prepare for it.
At Rentacrate, we aim to provide certainty and reliability in an uncertain world, which resonates with our customers now more than ever. Since the inception of our company, we have been forced to not only embrace change, but to pioneer it. Changing markets, disruptive technology, and an evolving customer base, we have greeted change with open arms.
While the health and safety of our team and our customers are our top priority, it is important that we continue to support the communities we operate within. Our resilience in the face of ambiguity is what sets us apart in our industry.
As we continue to move forward and serve our customers, know that we are here for you today, and we will be here for you in the future. - JOSEPH A AIELLO, PRESIDENT & CEO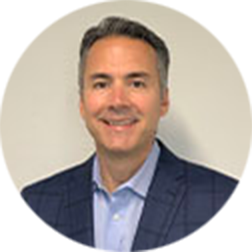 Start moving your school
Thank you for your interest in moving with Rentacrate
Our team is working diligently to provide each and every customer a custom solution to their moving needs. A Move Expert will be reaching out to you directly to finalize your order.
Frequently asked questions
Our customer service team is here to help with every detail. Our business hours are Monday- Friday, 9am- 6 pm EST.
We understand you don't always have the experience, time, and resources to properly execute your move. We've been making moves more efficient since 1991 and have you covered. Our Rentacrate Move Concierge team can assist you with full coordination and execution of your project or with only the components you don't want to handle yourself.  One call for all your needs. Contact us now to learn more at getmoving@rentacrate.com or at 866-673-7215.
Please fill out the form above with your delivery and pickup addresses, your general office size, and your email, and you will then see pricing.  Otherwise, please feel free to reach out to us directly at customerservice@rentacrate.com or at 800-427-2832 with the specifics of your move and we'll get moving on a quote.
We offer several additional services for commercial customers to help you with your project such as: Move Coordination & Execution, Office Clean-out, Electronic Recycling, Decommissioning, Tech Disconnect/Reconnect, Ongoing Support, and more.
We keep our crates clean and sanitized between each customer use. Our goal is 100% customer satisfaction, therefore our standard cleaning and disinfecting process for all our equipment exceeds CDC guidelines. Our equipment has been cleaned and inspected by your local Rentacrate team.
Yes!  We pride ourselves on our ability to service customers nationwide.